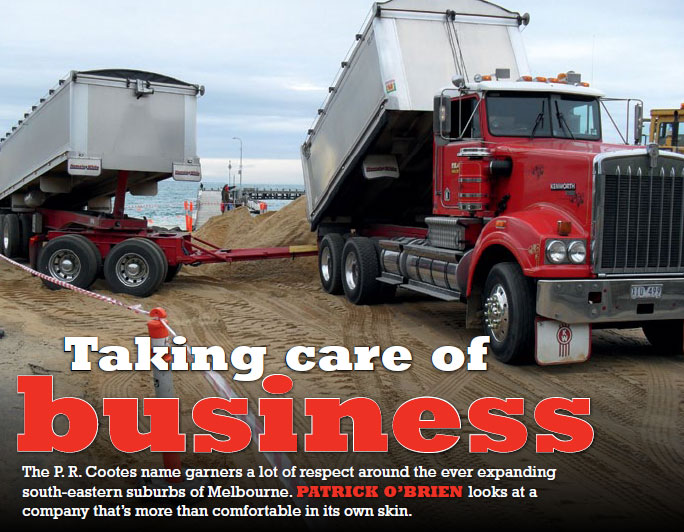 Diesel March-April 2012
A quick look at its vehicle fleet can reveal much about a firm's approach to business. Take the Cootes Quarry Products' line-up, for example. It comprises 19 truck and dog tipper combinations with trailers of varying descriptions, including one five-axle, half a dozen tri-axle and 12 quad-axle units. Continuing the diversity, the equipment comes from a trio of trailer manufacturers, namely Hercules, Hamelex White and Chris's Body Builders.
The majority of the fleet is signed up for sub-contracting work to a couple of concrete producers, with Cootes supplying nine vehicles and drivers to Holcim and three to Broadway & Frame. The remaining seven are dedicated to Cootes' own work in what has become a fairly sizeable customer base. The jobs include quarry work for the new estates populating Melbourne's south-east, road extensions, garden supplies and even repairing beaches along the Mornington Peninsula.
Leigh Smith, fleet manager at Cootes Quarry Products, explains how the current situation came to be and why it works so well for the company. "Our business model has basically evolved from a starting point just over six years ago when the entire fleet was contracted," Leigh begins. "When it came time for one of the trucks to come out of contract we decided to hold onto it for use as a substitution unit when the others were in the workshop for servicing
or repairs, as well as to pick up a bit of extra work to cover the costs of keeping the truck. "That was the foundation of our current customer base," he continues. "We picked up a couple of very good customers at the time and it kept growing organically from there. "We subsequently upgraded the fleet for
the sub-contracting work and retained the older ones to keep this additional line of work ticking over. There are a couple of newer units among the group, but we basically just keep the trucks to do our own work. We have a 1995 Kenworth that's done 1.6 million kilometres and is still going strong. It's a beautiful truck. I reckon it drives as well now as it did brand new. "Even though they're not new, they're far from being second best," Leigh adds earnestly. "It all comes down to how you look after them, making sure everyone treats them with the respect they deserve." In fact, words like 'respect' and 'care'
come up often when speaking with Leigh, seemingly representing the building blocks of the company's ethos and the motivator behind how everything is done.
For instance, presentation is of utmost importance for Leigh and the company's owner Paul Cootes. It stands to reason though because Paul is, in fact, the son of Ian Cootes whose fuel and gas haulage operation was famous for its pristine presentation of trucks and tankers. However, as Leigh points out, presentation extends beyond the customer base to the general public as well. That's why a Hercules bodied truck will only be seen hitched to a Hercules dog, a Hamelex coupled with a Hamelex and so on. Plus, each vehicle is cleaned and polished every day before it hits the road, always giving the right impression when it's out there doing the work.
As for why Cootes is happy for a few different trailer and body brands to populate its fleet, it seems the reason is nothing more complicated than keeping up with the best the industry has to offer. "Our relationship with each of the trailer builders is very good," Leigh Smith confirms, "and we tend not to favour one over the other. We had a lot of Hamelex gear early on and have always been happy with the service. The same is true with Hercules. With Chris's Body Builders, we heard about the PBS (performance based standards) three-axle dog the company designed; so we went over to have a chat about it, ended up buying a couple and they've worked out very well for us. "It's just nice to have a few different names throughout the company, to keep up with what's new and different among the builders around the place. Our specs are pretty similar in regards to running gear, mostly York and Hendrickson, and we'll only change things occasionally. For example, we tried disc brakes for a while on our tippers but found maintenance costs were higher so we ended up going back to drums. "Usually, we're only concerned with improvements in tare weight and payload capability. So we simply keep in touch with the manufacturers and look to them to see what they can offer us."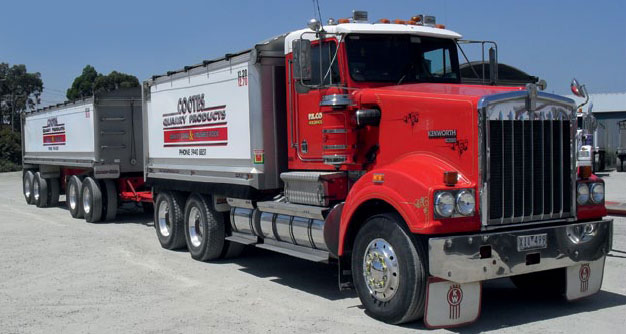 When it comes to upkeep, taking care of three different brands poses no problems for the Cootes maintenance team comprising two mechanics and two apprentices. According to Leigh, aside from the odd warranty issue, it's not often that a Cootes trailer is sent back to the dealer because everything that can be done in-house is taken care of, regardless of the brand. "Generally, the trucks and trailers are brought in for a maintenance check every two to three weeks," he explained. "We can pretty much handle everything here and to be honest that suits us perfectly. We probably do things a bit differently to others, as well. That's not to say we're better than anyone else, we just have our own way of doing things that works for us."
It also appears the P. R. Cootes way works well for others, too, because an increasingly important part of the business involves carrying out repairs and roadworthiness checks for other transport companies. Not only does this help keep the workshop busy during those quiet times when the fleet is out on the road, it's a handy little earner that boosts the bottom line nicely. After all, if you have the facilities including the workshop and a well-trained staff, why not make the most of it? The idea has proven such a success that Leigh reckons they're now doing two or three vendor jobs every day. "We've always had to do the annual roadworthy checks for the companies we've been working for over the years, so we decided to expand on this and offer our services out," he explains. "From a scheduling point of view, the business has to be flexible enough to work around other people's schedules. You might need to shift a job around to fit it into a Monday, for example, because that's an RDO (rostered day off) for the building industry, whereas Tuesday and Wednesday will be flat out. "Basically, it all comes down to caring about your job. It's good to know that there are extra things we can do to help our customers and it's actually an honour to have them trust us enough to bring their own trucks and trailers in to get serviced. It's important for us to service their gear up to the same level as our own. In a way, I guess, we're trying to raise the overall standard of the tipping industry."
This commitment to raising standards is also seen in the approach Cootes takes to its apprentices. The reality is that along with assing on the values that define the Australian trucking industry – including quality service, innovation and reliability – companies like Cootes are responding to the new challenges facing the next generation. At Cootes, for example, an apprentice can be found helping take care of the truck and dog combinations every afternoon and Saturday morning. The drivers will usually get back to base around 3.00 pm and team up with the apprentice to wash and polish the vehicles. In this way, the older generation is teaching the next one about the importance of having pride in what they do.
Leigh also knows that computers will be playing an increasingly important role by the time his apprentices' careers are in full swing. "We've had two apprentices since I've been here and it's been great to pass on the knowledge I've picked up over the years to a new generation. You have to keep in mind, though, that some of the stuff I've seen in my time is a lot different to what the young guys are seeing these days. Computers are such a big part of the job, the electronics and so on," he says. Still, as Leigh points out, while anyone can plug in a diagnostic kit, having a good knowledge of the basics of mechanics will never go out of fashion. "You need to have the fundamentals. I reckon that starts way back even before they begin their apprenticeship. If you have a kid who's taking apart lawnmowers or messing with cars when they're 14 or 15, they have that knowledge of how machinery works before entering the workforce. From then on you're always learning; I'm still finding out about things every day. If you're not continually learning, you're not trying hard enough is the way I look at it."
Payload performance
The sizeable area covered by Cootes – from Hallam in Melbourne's south-east and much further east to Bairnsdale and up into the steep hills around Myrtleford – obviously includes a significant number of roads through a few different shires, each with their own rules and regulations. With this expansive reach comes the onerous task of paperwork, which becomes further complicated when PBS (performance based standards) is thrown into the mix. Yet, as Leigh explains, the extra payload makes it all worthwhile.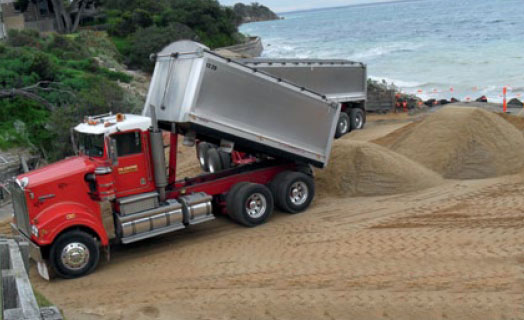 "It's a big job in itself, taking care of all the permits, especially when we get work outside our usual areas," he says. "Although it's time consuming, it's actually not that hard to meet all the requirements. "The five-axle dog has certainly come in handy here. Getting that extra payload on those longer journeys makes it worthwhile because we're essentially running a couple of extra trucks without having to increase the size of the fleet. It costs a bit to get accredited but after that we can work on keeping the price low for customers so we can supply our services at the right price. "PBS has enabled big changes over the last five years, causing the length of the trailers to grow. It's also made a difference to the maintenance side of things, you notice a few parts succumb to wear and tear a bit faster now. For example, drawbar bushes seem to wear out quicker than before. Most of the extra weight – as much as six or seven tonnes – is going on the trailer, so it's only natural those bushes are taking more strain. "It's not a massive difference, but you do notice it. We're also aware of the impact on the brakes. Obviously they're doing it a lot tougher slowing down that extra weight."
Craig Wallace, general manager of Hamelex White, says that for a manufacturer like Hamelex White the main difference in the bigger builds is in the overall size increase – everything else is simply business as usual. "The drawbar bushes and the rest of the running gear are just the standard components we've always used," Craig confirms. "It's probably fair to say that we've always chosen gear that will stand up to a bit more weight, anyway. "But like Cootes, we've noticed the brakes are wearing somewhat quicker than normal.
Tyres are also wearing a bit faster as well, usually needing replacement around the 90 to 100,000 km mark. We've had a few comments about the tyres, but when you're carrying extra weight you just have to accept that this is going to happen to a certain degree. It's not a fault in the design of anything." Alan Beggs, Hamelex White's service repairs manager, adds that it's the single operators who are raising questions more than the bigger players. Going from six-axle units hauling 45 tonnes to seven-axle combinations with 57.5 tonnes is a big jump. The bigger fleets seem to have realised that with extra payload comes extra strain on the vehicles. The obvious response is to increase the frequency of maintenance schedules. "I think that's probably the best advice," Alan adds. "We don't feel we need to send any specific feedback to our suppliers. Overall the PBS builds are going very well and the tyre and brake manufacturers are always improving their products." A great tip.
Leigh himself began his trucking career as an apprentice, spending six years at Kitco Transport in the small town of Koo Wee Rup. At the end of his apprenticeship he started looking after the Kitco workshop, soaking up the knowledge passed down by the older generation of blokes there. Looking for a change, Leigh began driving tippers with three and four-axle dogs in tow for Paul Cootes. Eventually though, the lure of the workshop proved too great and he relinquished the driving role to take up his current position. That was about four years ago and Cootes has since grown from employing one mechanic who also did a bit of driving on the side to its current size. "My father, who was in the tipper game as well, said to me years ago that if you're going to go driving, do tippers," Leigh reveals. "It's a great job, but it can be hard. There's a lot more skill involved than people give you credit for. It's not just driving a dirty tip truck around the yard and tipping off some gravel. Plus you're not just on a road, you're in building sites and paddocks, all
sorts of conditions. It's very challenging and punishing work and to do what these guys do every day is pretty impressive. "Our drivers know what they're doing, they understand everything. We get customers asking us for advice on how to handle different materials and the drivers have been doing it long enough to know the answers. It also helps when someone new starts. If they have any questions, they know they can give one of the 'old hands' a call and the problem will be solved straight away. It's all about caring about the state of the industry."